成員清單
目前成員
臺灣 Carabus 步行蟲生態與演化.
碩班主題: 雞冠細身鍬形蟲大顎對稱性與發育不穩定性; 博班主題:鍬形蟲大顎形態與打鬥行為的演化
貓蛛系統分類,行為及演化.
菲律賓民答那峨島 Mt. Malindang 地區蜉蝣新種與DNA條碼
豆娘的寄生蜂; 角蟬親緣關係與演化歷史
鬼艷鍬形蟲打鬥行為
中華珈蟌的轉錄組分析
中華珈蟌的溫度適應與棲地選擇
球背象鼻蟲的生態與演化.
鍬形蟲的共生酵母
四斑細蟌的保育
鹿角鍬形蟲打鬥行為
象鼻蟲的分類與演化
大圓斑球背象鼻蟲母親禮物
歷屆成員
領域行為, 特徵演化模式.
婚配策略, 行為生態, 分子生態, 族群遺傳, 分子親緣, 生物統計.
中華珈蟌 Psolodesmus mandarinus 亞種的生殖隔離.
臺灣金龜雄蟲性徵的演化.
鍬形蟲打鬥行為及繁殖策略.
鹿角鍬形蟲的打鬥行為與基礎生物學觀察.
Insect Diversity and Evolution
球背象鼻蟲 Pachyrhynchus 的防禦機制.
警戒顏色訊號, 島嶼生物地理.
翅膀變異與適應.
昆蟲分類和演化
水蠆食性, 分子演化.
球背象鼻蟲的斑紋對鳥類捕食者的警戒效果.

蘇詠超

Euphaea amphicyana 幽蟌生殖器變異.
鹿角鍬形蟲的打鬥行為模式.
角蟬.
鹿角鍬形蟲的打鬥行為模式.
Euphaea amphicyana 幽蟌翅脈地理變異.
1. 颱風如何影響白痣珈蟌, Matrona cyanoptera 的存活率. 2. Euphaea amphicyana 表型變異模式.
菲律賓弧角蟬親緣地理.
雞冠細身鍬形蟲大顎變異.
Euphaea 屬豆娘種化模式.
菲律賓雅角蟬 Centrochares horifficus 的親緣地理與族群歷史.
白痣珈蟌視覺溝通系統
短腹幽蟌 Euphaea formosa 的族群遺傳與親緣地理分析
泡沫蟬 Okiscarta uchidae 內共生菌之分子特徵與親緣關係
訪問學者和學生
行為生態; 婚配系統; 武器生態與演化; 演化生物學
菲律賓民答那峨島 Mt. Malindang 地區石蠅新種與DNA條碼
擬態大鳳蝶 Papilio memnon 的生態與演化
負子椿象和蜻蜓幼蟲對孓孓的補食潛力
克羅埃西亞 Turopolje 地區溼地蜻蜓組成
蜻蛉歷史,多樣性,與鑑定
武器的多樣性: 甲蟲的空氣動力損耗.
獨角仙之性別內打鬥與性別間敵對行為.
蘇詠超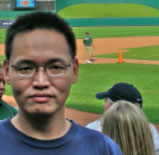 職稱
博士後研究員 2012-2014
研究物種:Argyrodes miniaceus, A. miniaceus are stealing food from their host, Nephila pilipes, cooperatively.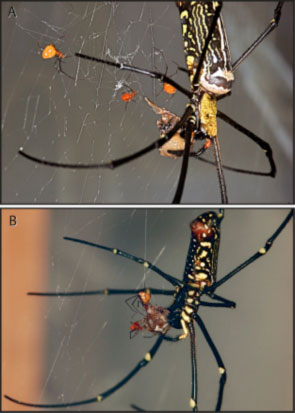 研究主題
行為生態、社會生物、族群遺傳、及分子親緣關係
摘要
電子郵件:ycsu527@gmail.com
Education
Ph.D. in Ecology and Evolutionary Biology, University of Kansas, USA
M.S. in Biology, Tunghai University, Taiwan
B.S. in Biology, Tunghai University, Taiwan.
Research summary
My dissertation was about the group-living behavior in kleptoparasitic Argyrodinae (Araneae: Theridiidae), and the species level molecular phylogenetic analysis of the Argyrodinae. I included four research approaches in this dissertation. I showed the first empirical study of cooperative kleptoparasitism in Argyrodinae. The results showed that, at least at the level of foraging, group-living behavior has adaptive function of cooperation. Using a game theory model, the payoff of being cooperator in a group is greater than the payoff of being solitary. Second, I found that kleptoparasites do not aggregate simply because the webs are large and can support multiple kleptoparasites. Social interactions among group members provide additional benefits that favor individuals remaining in groups. In the population genetic studies, I discovered that group members could gain indirect benefit of fitness by cooperating with group members, who are potentially related individuals. This is because in group-living Argyrodes, group members are significantly more closely related than the individuals drawn randomly from the population in a small geographic scale. The phylogenetic analyses showed several independent origins of group-living behavior in different species groups. The evolutionary sequence of foraging strategies of Argyrodinae is from free-living to araneophagy, then to kleptoparasitism. The comparative analyses showed the specialization to large host is correlated with the evolution of group-living behavior. In addition, the processes of specialization thus becoming group-living may have caused diversification within species groups.
The main project for my postdoc position in Dr. Lin's lab is to develop methods for several phylogeographic projects for treehoppers and damselflies in SE Asia using both Sanger sequencing data and next generation sequencing data.
Publication
Su, Y-C., J-F. Wang, R.J.T. Villanueva, O.M. Nuñeza and C-P. Lin. 2014.Hopping out of Mindanao: Miocene-Pliocene geological processes and cross-island dispersal as major drivers of diversity for Philippine treehoppers. Journal of Biogeography 41(7):1277–1290. PDF.
Su , Y. C., Chang, Y. H, Smith, D. R., Zhu, M. S., Kuntner, M., and Tso, I. M. 2011. Biogeography and speciation patterns of the golden orb spider genus Nephila (Araneae: Nephilidae) in Asia. Zoological Science 28(1): 47-55.
Cobbold, S. M., Su, Y. C. 2010. The host becomes dinner: possible use of Cyclosa as a nuptial gift by Argyrodes in a colonial web. Journal of Arachnology 38:132-134.
Su, Y. C., Chang, Y. H., Lee, S. C. and Tso, I. M. 2007. Phylogeography of the giant wood spider (Nephila pilipes, Araneae) from Asian–Australian regions. Journal of Biogeography 34: 177-191.
Lee, J. W., Jiang, L., Su, Y. C. and Tso, I. M. 2004. Is Central Mountain Ridge a geographic barrier to giant wood spider Nephila pilipes (Araneae, Tetragnathidae) in Taiwan? A population genetic approach. Zoological Studies 43(1): 112-122.