成員清單
目前成員
臺灣 Carabus 步行蟲生態與演化.
碩班主題: 雞冠細身鍬形蟲大顎對稱性與發育不穩定性; 博班主題:鍬形蟲大顎形態與打鬥行為的演化
貓蛛系統分類,行為及演化.

白里歐

豆娘的寄生蜂; 角蟬親緣關係與演化歷史
鬼艷鍬形蟲打鬥行為
中華珈蟌的轉錄組分析
中華珈蟌的溫度適應與棲地選擇
球背象鼻蟲的生態與演化.
鍬形蟲的共生酵母
四斑細蟌的保育
鹿角鍬形蟲打鬥行為
象鼻蟲的分類與演化
大圓斑球背象鼻蟲母親禮物
歷屆成員
領域行為, 特徵演化模式.
婚配策略, 行為生態, 分子生態, 族群遺傳, 分子親緣, 生物統計.
中華珈蟌 Psolodesmus mandarinus 亞種的生殖隔離.
臺灣金龜雄蟲性徵的演化.
鍬形蟲打鬥行為及繁殖策略.
鹿角鍬形蟲的打鬥行為與基礎生物學觀察.
Insect Diversity and Evolution
球背象鼻蟲 Pachyrhynchus 的防禦機制.
警戒顏色訊號, 島嶼生物地理.
翅膀變異與適應.
昆蟲分類和演化
水蠆食性, 分子演化.
球背象鼻蟲的斑紋對鳥類捕食者的警戒效果.
行為生態、社會生物、族群遺傳、及分子親緣關係
Euphaea amphicyana 幽蟌生殖器變異.
鹿角鍬形蟲的打鬥行為模式.
角蟬.
鹿角鍬形蟲的打鬥行為模式.
Euphaea amphicyana 幽蟌翅脈地理變異.
1. 颱風如何影響白痣珈蟌, Matrona cyanoptera 的存活率. 2. Euphaea amphicyana 表型變異模式.
菲律賓弧角蟬親緣地理.
雞冠細身鍬形蟲大顎變異.
Euphaea 屬豆娘種化模式.
菲律賓雅角蟬 Centrochares horifficus 的親緣地理與族群歷史.
白痣珈蟌視覺溝通系統
短腹幽蟌 Euphaea formosa 的族群遺傳與親緣地理分析
泡沫蟬 Okiscarta uchidae 內共生菌之分子特徵與親緣關係
訪問學者和學生
行為生態; 婚配系統; 武器生態與演化; 演化生物學
菲律賓民答那峨島 Mt. Malindang 地區石蠅新種與DNA條碼
擬態大鳳蝶 Papilio memnon 的生態與演化
負子椿象和蜻蜓幼蟲對孓孓的補食潛力
克羅埃西亞 Turopolje 地區溼地蜻蜓組成
蜻蛉歷史,多樣性,與鑑定
武器的多樣性: 甲蟲的空氣動力損耗.
獨角仙之性別內打鬥與性別間敵對行為.
白里歐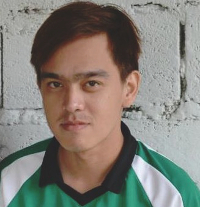 職稱
碩士生 菲律賓民答那峨州立大學 (國科會台菲交換學生 2014-2015); 中研院國際研究生生物多樣性學程博士生 2016-
研究物種:蜉蝣, 中華珈蟌
研究主題
菲律賓民答那峨島 Mt. Malindang 地區蜉蝣新種與DNA條碼
摘要
A sucker for information, Leo likes to read write-ups about anything the world has to offer - thus daily giving him the sleepy/tired eyes.
E-mail:leocrisjr@gmail.com
Field Site
Layawan River of Mt. Malindang in Mindanao Island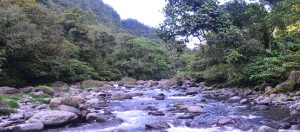 Research Topic
New Species and DNA Barcoding of the Mayfly (Ephemeroptera) in Mt. Malindang, Mindanao, Philippines
A major waterway in Mt. Malindang Range, Layawan River sustains many plants and animals. The project is aimed to determine the mayfly (Ephemeroptera) diversity of the river which is believed to have many un-described invertebrates. Geared to being a baseline study, the project described and identified several mayfly species and looks forward to DNA barcode of the specimens for biodiversity conservation efforts and other future works.
Novel wing display and divergent agonistic behaviors of two incipient Psolodesmus damselflies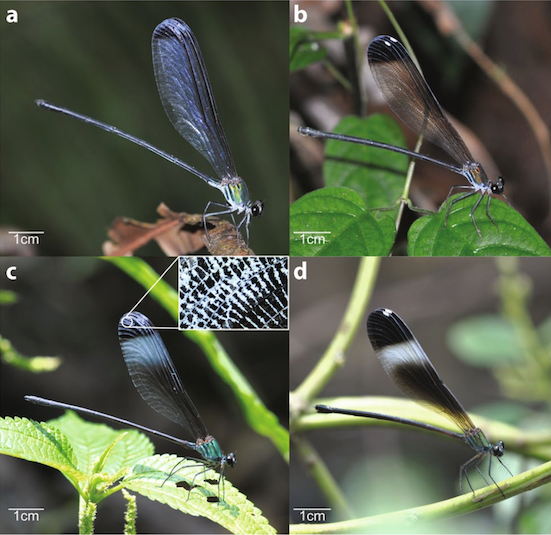 Psolodesmus mandarinus dorothea (a) male and (b) female with small black apical pigmentation and hyaline wings, and Psolodesmus mandarinus mandarinus (c) male and (d) female with larger pigmented area, conspicuous white patch, and brown basal coloration.
Sexual selection via male competition is a strong evolutionary force that can drive rapid changes in competitive traits and subsequently lead to population divergence and speciation. Territorial males of many odonates are known to use their colorful wings as visual signals and to perform agonistic displays toward intruders. Psolodesmus mandarinus dorothea and Psolodesmus mandarinus mandarinus are two parapatrically distributed sister damselflies that share similar ecological characteristics but differ markedly in wing coloration. The wings of P. m. dorothea are mostly clear, whereas those of P. m. mandarinus have a large area of black pigmentation and a central white patch. We investigated whether territorial males of the two damselflies at breeding sites display distinct agonistic behaviors associated with their respective wing colors. Behavioral interactions between territorial and intruder males and their wing kinematics were filmed and analyzed for P. m. dorothea in Lienhuachih of central Taiwan, and P. m. mandarinus in Tianxiyuan and Fusan of northern Taiwan. We observed that the P. m. mandarinus males exhibited a novel set of perched wing displays, which was not only absent in its sister P. m. dorothea but also previously unknown in Odonata. At breeding sites, perched rival males of P. m. mandarinus with pigmented wings exhibited escalating agonistic wing-flapping and wing-hitting displays toward each other. In contrast, territorial males of P. m. dorothea with clear wings engaged only in aerial chase or face-to-face hovering when intruder males approached from the air. These results indicate that the two sister P. mandarinus damselflies diverged behaviorally in territorial contests and support the hypothesis of coadaptation on the basis of wing colors and types of wing movement in Odonata. Our findings further suggest that divergent agonistic wing displays may play a pivotal role in the speciation mechanism of P. mandarinus damselflies. The sequential analyses of behavioral characteristics and progression suggest that P. m. mandarinus damselflies likely use mutual assessment of rivals in territorial contests.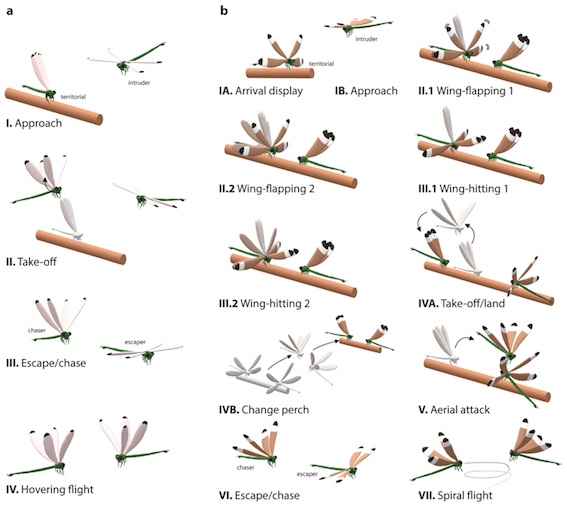 Ethograms of territorial contests of (a) Psolodesmus mandarinus dorothea and (b) Psolodesmus mandarinus mandarinus.
Selected Publication
Batucan J. L. S., Y-H. Hsu, J. W. Maliszewski, L-J. Wang and C-P. Lin (2021) Novel wing display and divergent agonistic behaviors of two incipient Psolodesmus damselflies.The Science of Nature 108: 49 doi.org/10.1007s00114-021-01758-6 Oct 3 2021.
Batucan, L.S., O.M. Nuñeza, R.J.T. Villanueva and C-P. Lin (2016) A new species of mayfly (Ephemeroptera: Tricorythidae) from Mindanao island, Philippines and association of life stages using DNA barcode. Philippine Journal of Systematic Biology 10: 6–13.