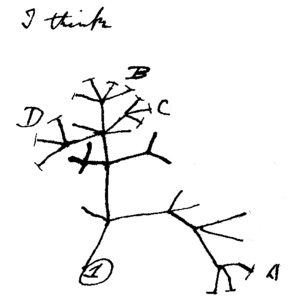 Charles Darwin's evolutionary tree.
---
Systematics and Evolutionary Biology Laboratory
We are interested in the evolutionary history of organisms, and use phylogenies as a framework to understand their diversities, ecology, behavior and the process of diversification. Major animal groups of our current focus are treehoppers, damselflies, stag beetles, flower beetles, weevils and spiders.
Contact Us
EMAIL:treehopper@ntnu.edu.tw
LAB TEL: +886-2-7749-6309(O), 6314/6315(Lab)
FAX: +886-2-2931-2904
Address: Department of Life Science, National Taiwan Normal University, No. 88, Sec. 4, Tingzhou Rd., Taipei 11677, Taiwan
---
Jobs
News
2018/12/04

Flower Beetle Fight in the News
2018/11/19

2019 TIGP 2 PhD scholarships on aposematic weevils and damselfly speciation, online application deadline: 2018/01/31
2017/12/20

The Economist's news report on the secondary defense of Pachyrhynchus weevil
2017/11/17

2018 TIGP 2 PhDs and 2-4 summer interns
2016/01/22

2016 Summer Field Helpers Recruit
2016/01/05

PhD Position and Scholarship in Insect Speciation on Islands, March 31th, 2016

The Systematics & Evolutionary Biology Lab at the Department of Life Sciences, National Taiwan Normal University (NTNU) in Taipei, Taiwan is seeking a self-motivated and enthusiastic PhD student to work on comparative phylogeography of ecological speciation on Asian continental and oceanic islands.

The Project:

This research project will analyze the speciation mechanism of endemic freshwater insects between Taiwan and Yaeyama Islands of Japan (oceanic island), and between mainland Asia and Hainan Island (continental island). Several insect species are endemic to these islands and show adaptation to novel environments (ecological speciation) between islands. See a damselfly example, Lee & Lin 2012.
The project will generate sequence/genomic data from multiple individuals of selected endemic species of the islands. First, phylogenetic and population genetic analyses will be used to infer the process of speciation between species pairs on the islands. Second, the level of intrinsic reproductive isolation between species pairs will be measured through crossing experiments. Third, the strength of natural selection between species pairs will be accessed through field studies of fitness components. Lastly, through the analysis of genome-wide DNA polymorphism of target species, the genomic regions and candidate genes underlying ecological speciation will be uncovered. International students with an interest in studying tropical island biology are encouraged to apply.

Funding:

Funding includes a competitive monthly stipend of NT$34,000 (US$ 1,133) for up to 3 years for both domestic and international students through the TIGP Biodiversity, Taiwan International Graduate Program - Biodiversity, a jointed graduate program between NTNU and Academia Sinica. Students are also eligible for on-campus housing during the years of their studies.

Eligibility:

The position is open to all applicants that meet TIGP admission criteria, but preference will be given to students with a master degree or prior experiences in phylogenetics, population genetics and insect biology. Criteria/material used to evaluate the applicant's qualifications for the admission: TIGP BIODIV Admission

How to apply:

Interested candidates should email (1) a CV, (2) a list of prior experience and publication, (3) three references (contact info & e-mails), and (4) a one-page statement of research interests in one PDF file to Chung-Ping Lin (treehopper@ntnu.edu.tw) with the subject line "TIGP application – Island Speciation".
Additionally, candidates should submit a formal online application for admission in Taiwan International Graduate Program Application On-Line, 2016. Deadline for applications through the online portal is March 31st for a September 2016 start.

Web pages:
Announcement
2015/01/08

Undergraduate & Graduate Research Projects.
Our lab is looking for undergraduate and graduate students to conduct research projects on:
1.Treehopper Biology
2.Biodiversity of Island Insects
3. Wing variation, adaptation and speciation of Damselflies
4. Fighting Behavior & Evolution of Mandibles in Stag Beetles
5. Diversification of Insects on the Philippine Archipelago
6. Adaptation and Diversification of Pachyrhynchus weevils
Please send messages to Chung-Ping Lin at treehopper@ntnu.edu.tw, or stop by his office in NTNU.
Last update: 2020/02/17